Has received a cphbags as a gift and has diligently used it from day 1. Super delicious with inside pockets, nice design and nicely processed. Have used it for sports, city trips with a few extra shoes and shopping and for weekend stays, as it itself is light, very spacious and has good shoulder straps. Can be recommended, you become addicted to it.
Elegant, functional and spacious shopping bag. The bag can be worn over the shoulder, which is important to me, so I have my hands free. I chose the bag without a zipper and with a purse. I am very fond of the separate compartments that make it easier to pack my purchases. The purse is spacious and there is room for both the iPhone and other things. I would recommend opting for the keychain. My favorite bag. Good design.
ELEGANT, FUNCTIONAL AND SPACIOUS SHOPPING BAG
Total favorite shopping bag! It is super useful - both for the big shopping with many heavy things, where you really feel that it is a quality product that is both strong and delicious, and great for the shopping trip with friends, because it is so nice and has room for everything you need and buy along the way. Can really be recommended - also as a gift!
Now I have had the bag for a few months and just think I will give a few recommendations along the way. The bag is really usable and VERY spacious, both for shopping goods but just as much as a weekend bag or sports bag. The wide handles make it comfortable to handle by the shoulder. The quality is top notch, so I understand the price comes with it ... it's all worth it. 5 stars!
Finally, a shopping bag that can hold all my purchases, and which is not just one big compartment where the goods are lying in a large pile. Now I come home with eggs and strawberries that are not on my way home.At the same time, I love having a nice and smart shopping bag over my arm.
HIGH PRAISE - SUPER SHOPPING BAG
Thanks. I want to praise you. Have now had my shopping bag for a few days and what a relief when I go shopping. The inner compartment divider keeps my goods in place. In the past I have experienced that I did not have room for all my items and still had to buy a plastic bag next to it. But now I can have everything in one shopping bag! The shopping bag is super spacious.
Shopping bag made from recycled plastic bottles
98% post-consumer RECYCLED PET, GRS certified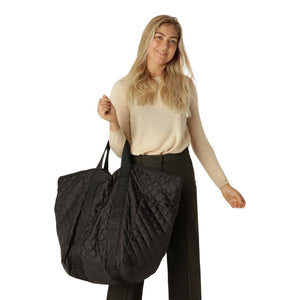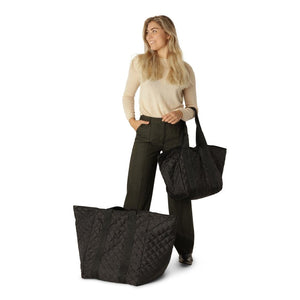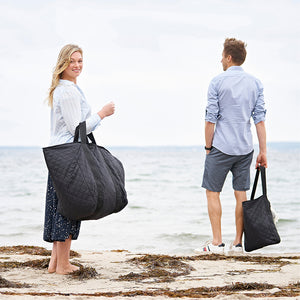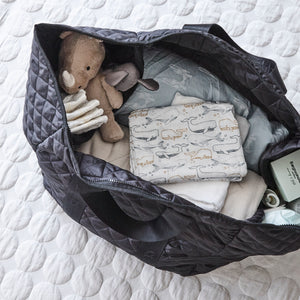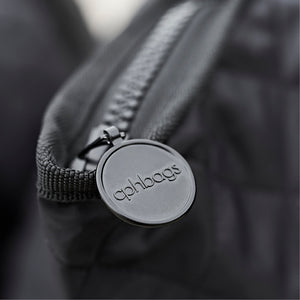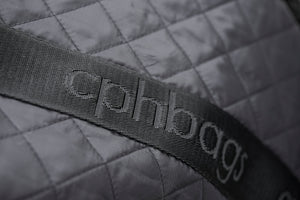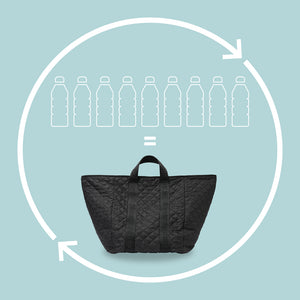 CPHBAGS Mega Weekend Bag is very functional and very spacious, suitable for holiday use, weekend trips, for childrens sleeping bags...
Learn more
The idea behind the Danish designed bags from cphbags
The idea behind the luxury shopping bag from cphbags comes from a concrete need for a more practical shopping bag. In addition to a practical need it was of course also a must that the bag should be nice and fashionable and made in a delicious quality so you feel like using the bag every day .. It is therefore made of black quilted fabric with wide comfortable straps. The fabric is incredibly soft and of the highest quality, which makes the bag durable.
Do something good for the environment by buying an environmentally friendly bag from cphbags that is made from 98% recycled plastic bottles. In addition you do not have to buy expensive bags in the supermarket every time you go shopping.
Buy environmentally friendly danish designed bags from cphbags
cphbags is behind the patented luxury shopping bag made of recycled plastic bottles. The bag is ultra-soft and has a unique design featuring separate compartments that allows for separation of delicate groceries such as eggs, herbs, tomatoes, macaroons and crisps to spare them from getting crushed on your way home. In addition to the two separate compartments and the main compartment the bag features four small pocket options for keys, wallets, mobil phone and small extras for optimal organization.
The bag is both spacious and practical and is ideal for a lot of different purposes besides shopping. You can for example use it for a picnic bag, for the beach trip, for training clothes, as a diaper bag etc. Whatever you choose to use the bag for you can find your things easier and faster due to the patented compartment division.
luxury on the shopping trip
cphbags shopping bag - when luxury and high functionality go hand in hand with sustainability. Finally, a beautiful luxury shopping bag in high quality, which withstands daily use. Your faithful follower on the shopping trip when it must be both practical, smart and nice to shop.
For the quality-conscious woman and man who appreciates functionality and durability.
cphbags - brings enjoyment in daily use
cphbags helps you get an overview of what is in the bag. Whether it is the handbag, the weekend bag, the mega weekend bag or the shopping bag, the many compartments and pockets ensure that you maintain an overview of what is where. Finish with everything lying around in a large room - now you have order and an overview in your bag. Your daily enjoyment - cphbags.